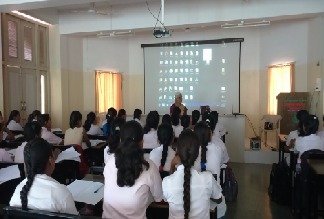 Digital Class Room provides teachers to know how to manage diverse types of digital environment. They are interested in online and blended learning paradigms such as flipped learning. They feel that video tutorials are a must for demonstrating new technology. They would like reviews of different types of topic by creating videos, power point presentations, audio and video demonstrations. They want to let student create their own video content for authentic purposes and to feel pride in their work. They give tips on how to exploit the visual aspects of video. We provide this opportunity through digital Class Room.
Facilities available
LCD Projector – 13
Digital Notice board – 03
OHPs – 08
Network resources centre in library
Interactive board facility.
Wi-fi avail for all in all department.
Teaching Aids – Model, Charts, power point presentation,Microslides & Specimens etc.